Welcome to Lafayette Place! Established in 1915,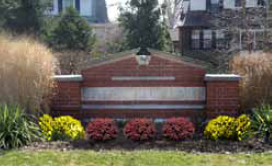 each home features distinct architecture, design and craftsmanship.  A serene setting offering urban diversity, Lafayette Place includes over 426 homes as well as a park featuring lighted tennis courts, a small pavilion and new, state-of-the-art playgrounds, including a "tot lot" for 2-5 year olds.
Mature and stately trees are seen throughout the neighborhood, but are showcased in the park-like strip of land that is 216 feet wide by 1,700 feet long called the Esplanade. Designed in 1915 by nationally prominent landscape architect Arthur Shurcliff, the Esplanade runs through the center of Lafayette Place. An elegant gazebo was added in 1994 and surrounded with landscaped gardens.
The location of Lafayette Place offers the convenience of walking distance to shopping, public transportation, and both public and private schools. I-469 and I-69 are less than 10 minutes away.
In Lafayette Place you'll find neighbors who know each other by name and lend a helping hand when needed. Children ride their bikes, walk our streets and play freely and safely in the neighborhood park and Esplanade.
New residents to our neighborhood have called Lafayette Place "a hidden treasure."  We invite you to discover this hidden treasure for yourself!